"Waist Down" at Prada
Originally run in Tokyo last year, an exhibition called "Waist Down" is coming to New York. It showcases the more than 200 variations on the theme of skirts from designer Miuccia Prada. Prada has a self-professed love of the looks and versatility of the skirt, perhaps more than most designers, and felt that is would be the natural subject for an exhibition when she discovered that people would be interested in seeing more of the design process and evolution of design. Unlike most fashion exhibitions, "Waist Down" does not feature any real models, but displays the skirts in unusual ways, from "spread open and sealed in plastic" to being attached to long, twirling mechanical hangers that allow the skirts to move freely.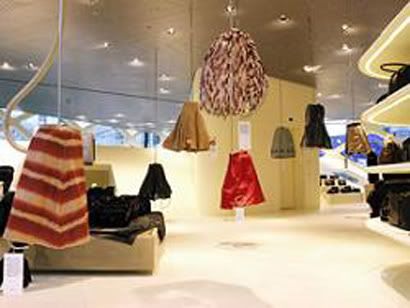 Website of "Waist Down"